Date and Time
Thursday Jan 26, 2023
1:00 PM - 2:00 PM EST
Honest Conversations Webinar - Profit...
Description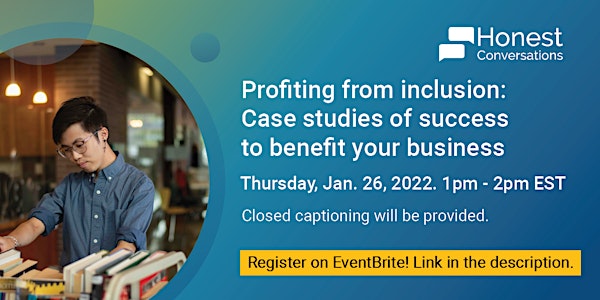 Honest Conversations: Profiting from inclusion: Case studies for success in benefiting your business.
Profiting from inclusion? Is that okay? Of course.
People with disabilities profit from inclusion when they can find jobs and be hired for their skills. Businesses profit from inclusion by building diverse and productive workplaces.
Join us for an Honest Conversation on how two Ontario businesses have benefited from hiring people with disabilities.
Date: Thursday, January 26, 2022
Time: 1:00 p.m. to 2:00 p.m. Eastern Standard Time.
Accommodations
This webinar will have Closed Captioning.
If you require an accommodation, please contact us at HonestConversations@occ.ca