Date and Time
Thursday Feb 24, 2022
12:00 PM - 1:00 PM EST
HOW SUSTAINABLE ARE THE NATURAL RESOU...
Description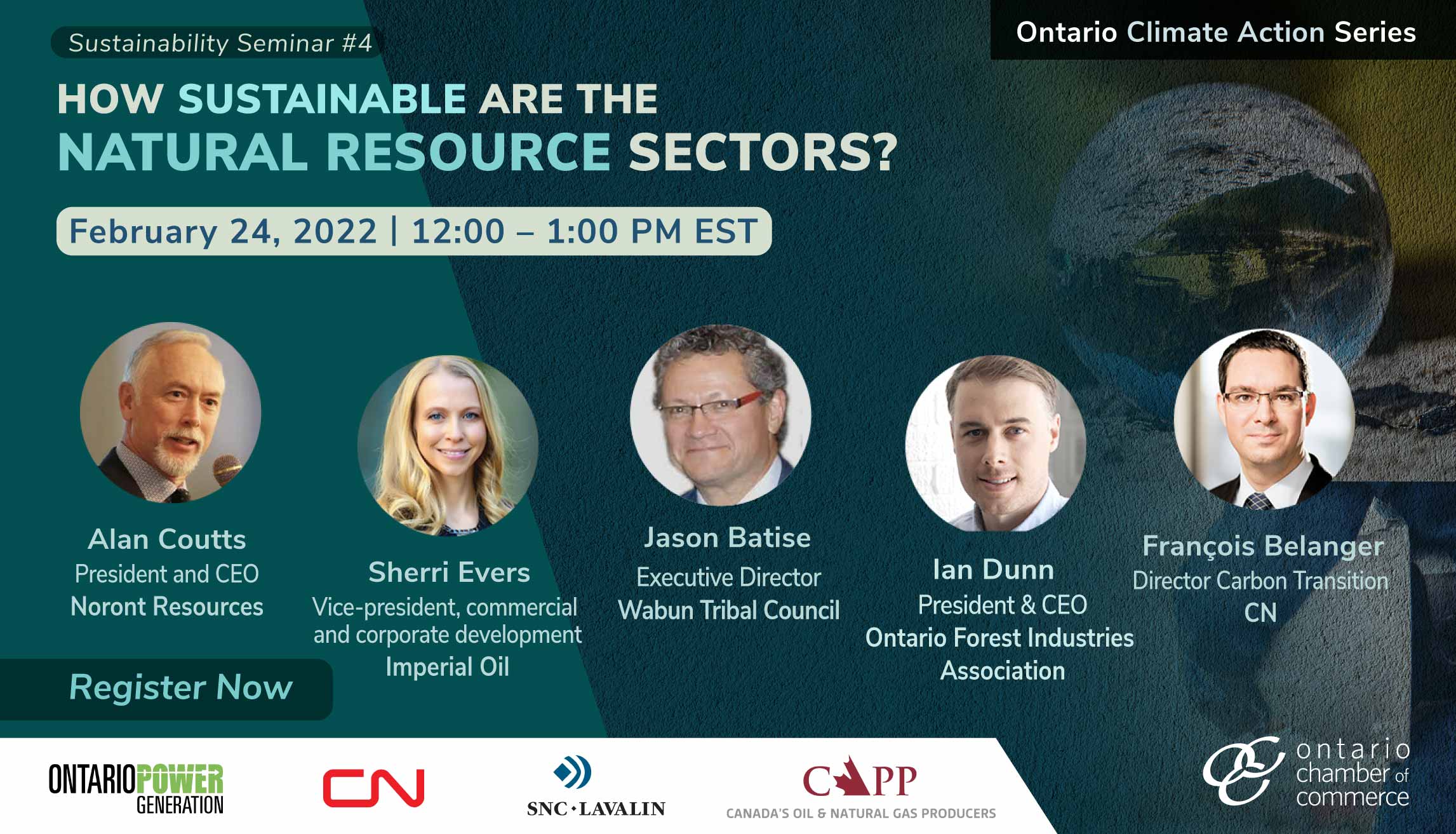 OCC WEBINAR | THURSDAY, FEBRUARY 24, FROM 12:00 PM - 1:00 PM:

HOW SUSTAINABLE ARE THE NATURAL RESOURCE SECTORS?
Happening next week! Join the Ontario Chamber of Commerce (OCC) on Thursday, February 24, from 12:00 pm to 1:00 pm, for our virtual event: How Sustainable are the Natural Resource Sectors?
Click here to register.
Oil and gas, forestry, and mining account for a significant share of jobs and tax revenues in communities across Ontario. But what of their environmental impact? Thanks to new technologies and major investments, the natural resource sectors are both reducing their own greenhouse gas emissions and developing the tools needed to support broader decarbonization of the global economy.

Register to hear from a panel of experts to learn how these sectors are investing in sustainable innovation.
OCC members, subscribers, Chambers of Commerce & Boards of Trade and their members are invited to attend.
Spearkers Include:
Rocco Rossi - President & CEO, Ontario Chamber of Commerce

François Belanger - Director Carbon Transition, CN

Alan Coutts - President and CEO, Noront Resources

Sherri Evers - Vice-president, commercial and corporate development, Imperial Oil

Jason Batise – Executive Director, Wabun Tribal Council

Ian Dunn - President & CEO, Ontario Forest Industries Association