Date and Time
Wednesday Feb 23, 2022
10:00 AM - 12:30 PM EST
Fees/Admission
Business Plan Builder Series - Februa...
Description
About this event
About this Event
Session 1 - Introduction to Business Plan - February 2nd, 2022

Session 2 - Market Research - February 9th, 2022

Session 3 - Marketing and Sales - February 16th, 2022

Session 4 - Operations and Financials - February 23rd, 2022
A virtual Business Plan Builder series is designed to help new and existing small business owners to gain an understanding of the key components of writing a meaningful business plan, as well as provide entrepreneurs with the essential knowledge and skills to grow and succeed.
The ultimate goal of the Business Plan Builder series is not only providing candidates with the educational platform about the elements of the business plan, but also give them an opportunity to work on their business plans and leave with a draft business plan that will help them to start their businesses out on the right foot. Candidates will have the opportunity to schedule a one-on-one business plan review session with a Small Business Consultant after completing the program.
* Attend all 4 sessions to be eligible for the Starter Company Plus program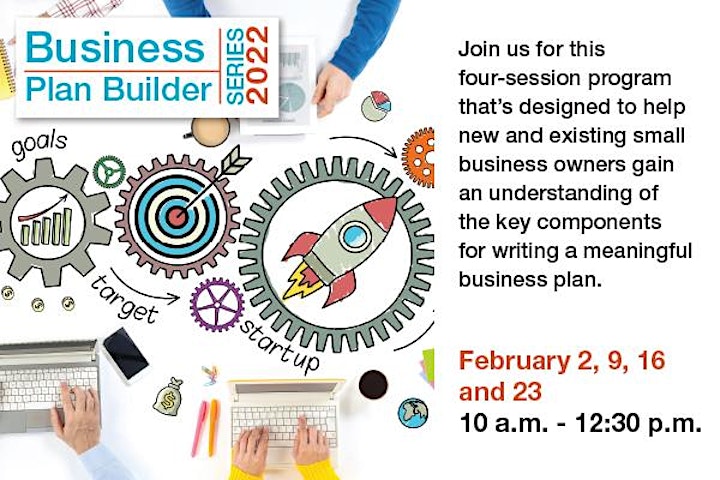 Session 1 - Introduction to Business Plan - Vision, Mission and Value Proposition Design (Feb 2nd)
If you want to build a successful business, it's important to develop a robust business plan. In this seminar, you'll learn the elements of what goes into a business plan, understand the 2 different types of business plans (the business model canvas versus the more detailed plan that banks and those funders and lenders still desire). We will develop a mission and a vision statement in this program and you will get clear in creating a value proposition that is clear and concise to the market you intend to reach! Each participant will have a solid understanding of what goes into doing both types of business plans and they will have worked on developing their own business model canvas!
Session 2 - Market Research (Feb 9th)
Market research is often overlooked by business owners, however by doing proper research it will save you time, money and energy. When you have a good understanding of the market and what they want in terms of products and services and what their challenges and needs are and how your business can solve those challenges and exceed the needs and client's expectations. We will learn the 10 steps to market research, identify tips and tools that you can easily source to help you obtain the information you need to make sound business decisions, plus each participant will work on a case study to show how a major food company uses market research to launch a new line of breakfast cereals!
Session 3 - Marketing and Sales (Feb 16th)
In this session participants will learn about the distinction between sales and marketing. We will learn in more detail, what goes into your marketing plan in your business plan. We will determine a marketing game plan, budgets, action steps, using the value proposition to help guide you towards creating marketing copy that can get results and then look at some key marketing tools you can use to break into the market. In the back half of this session, we will look at the sales process and how you take a prospective buyer from being interested in what you do, to becoming a paying client. We will share the 6-Step Sales process and share what you need to do each step of the way! You will have a sales plan that works, that is consultative in nature and that puts the focus on the customer getting value for their purchases.
Session 4 - Operations and Financials (Feb 23rd)
In this session you will learn what goes into an operations plan and why having one is almost equally as essential in your business as having a business plan. Your operations plan is the recipe and guide book around every aspect of your business. It encompasses how you make your products or deliver your services, to how you interact with clients, what steps are taken to market, sell, produce, deliver and it even includes how the financial aspects of your business play a vital role in the overall success of your venture! In the financial section we will determine what the banks want prior to you reaching out for financing. We will look at funding options from boot-strapping it to crowd funding. We will review how to do a cash flow forecast and to get clear on our money goals and needs.
If you have any questions or require further information, please email us at rhsbec@richmondhill.ca or call us at 905-771-5520.